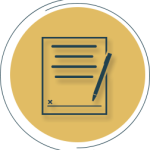 Trademark application post-filing solicitations by private companies are very common and can result in an applicant unwittingly paying money to a non-USPTO entity. These private companies are not affiliated with the United States Patent and Trademark Office but their names tend to somewhat resemble the USPTO's name.  A few examples of these solicitations include requests for fees for publication of a trademark, requests for fees to register a trademark, offers for monitoring services, and offers to register trademarks with Customs and Border Protection.
Here are a few tips to assist you in recognizing a solicitation from a private company:
Note that if an attorney submitted the application on your behalf and listed themselves as the correspondent in the application all official notices will be sent to that attorney. However, it may be worthwhile and is recommended that a copy of all notices received are shared with your attorney.
Read the company name and address on the notice carefully. All official notices from the USPTO will be from the "United States Patent and Trademark Office" in Alexandria, VA, or from the domain "@uspto.gov."
Be aware that the USPTO does not require an additional fee for publication of your mark. Therefore, any requests for publication fees are solicitations from private companies.
Check the status of your application/registration from time to time. For instructions on how to check the status of your application, visit:

Checking the Status of an Application or Registration

.
Read the

USPTOs guidance

on non-USPTO solicitations. At the end of the page, they provide a list of the names of some of these private entities.
For more information on this topic, feel free to contact us.
---
**The information provided on and through this website is for informational purposes only and not for the purpose of providing legal advice. You should contact an attorney to obtain advice with respect to any particular issue or problem. Use of and access to this website, blog and any of the e-mail links contained within this website do not create an attorney-client relationship**